November 1, 2021
Posted by:

Jason Holden

Category:

Product Updates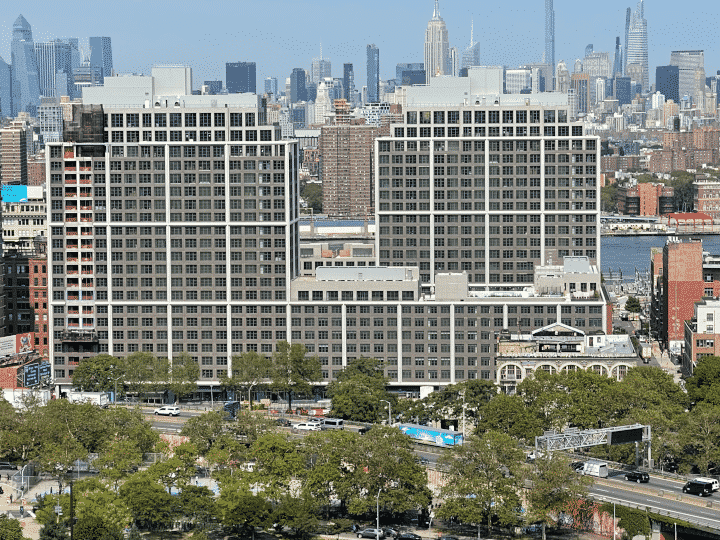 Smartrise is excited to announce we're adding even more C4 traction elevator controllers to residential and commercial buildings in the Big Apple. Below are just a few of the locations where we've recently made our mark.
Boasting 728 units and with amenities spanning 150,000 square feet is the Front & York Condo building. Rising 21 stories over Brooklyn, these resort-style condos feature ten C4 controllers in two 3-car groups and two 2-car groups. The traction controllers are complimented by an additional five SRH hydraulic controllers.
In Brooklyn, the 22-story soon-to-be hotel at 291 Livingston Street is the talk of the town. Along with its trendy new "Dazzle" mural, the hotel guest stars a Smartrise controller! Smartrise can't wait to add the 500 FPM speed and technical advances of a C4 controller to this gorgeous building.
Lastly, the apartment complex under construction at 455 Onderdonk Avenue in Ridgewood will rely on Smartrise's C4 controller for its 15 residences.
We love being a part of the skyline of such an iconic city! New Yorkers move quick, and Smartrise makes those movements as fast and easy as possible. So we're proud to provide the safety, stability, and reliability of Smartrise technology to these buildings.
In addition to our C4 traction elevator controller ideal for high-speed high-rise applications, Smartrise offers SRH and soon-to-be-released Hydro:Evolved hydraulic controllers. We also offer features like regen kits and on-site or remote monitoring. If you want to learn more about Smartrise controllers or request a quote, email our business development team at sales@smartrise.us.