January 29, 2020
Posted by:

Bertin Mendoza

Category:

Uncategorized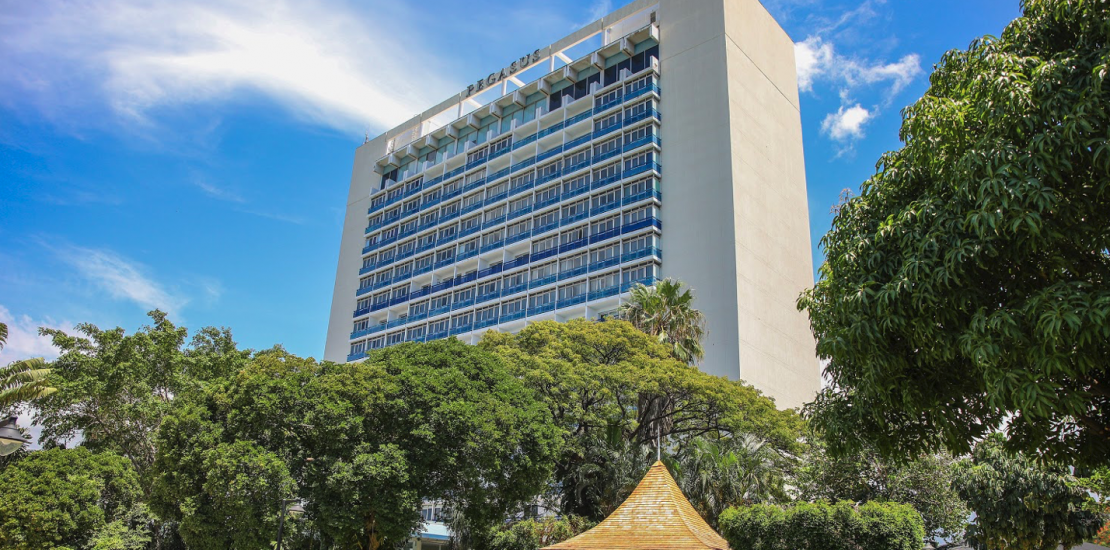 The sun rises on another idyllic morning in New Kingston, Jamaica in November of 2006. Senior Elevator Technician Richard Crooks of ComfortAir heads to work to start on a new elevator project at Jamaica National Bank. He brings a package that arrived the previous day. As the others around him prepare for the day, Mr. Crooks opens the package to reveal one of the first ever Smartrise controllers in existence. Now, after 13 years and over 22,000 controllers shipped by Smartrise, that early model in New Kingston still runs as smooth as its first day, and Richard Crooks continues his relationship with Smartrise into their latest generation of controllers, recently purchasing C4 controllers for a new project, The Jamaica Pegasus Hotel.
Crooks says he found out about Smartrise, "through a Senior Engineer working with us that was also teaming up with (Smartrise Director) Gilbert Zogbi on another type of controller." Crooks continued, "Alex Bouchez (Smartrise Director) contacted us and we purchased the first controller to use at Jamaica National to see how it would work compared to other controllers we've used previously."
While Zogbi had a great amount of faith in the controllers his fledgling company was putting out, there were still brief moments of apprehension. "Whenever you are launching a new product that is different than what everyone else is doing, there's always that little amount of doubt in your head, no matter how confident you are in your work. But we knew we had a great product, and Richard (Crooks) and I had a great relationship, so there was already a solid foundation of trust."
Within days, the controller was shipped out to Jamaica and set to be installed in the bank. Everything fell into place easily, a routine installation was completed, and Smartrise and ComfortAir celebrated the first of many successful partnerships on the 5-story bank in New Kingston.
It almost seems apt as a symbolic representation of the partnership between the two companies that the controller installed on a November afternoon 13 years ago is still going strong, even as Smartrise and ComfortAir continue with new and exciting projects, now using Smartrise's latest generation of controllers, C4.
"Since 2018, we've used Smartrise products in the University of Technology, Hotel 77, Courts Appliance and Retail Store, several homes and apartments in Kingston, and the Jamaica Pegasus Hotel. Every one of these projects have been easy to install and are user friendly controllers," Crooks said. The latest project the two companies have worked together on has been the aforementioned Jamaica Pegasus Hotel. Built in 1973, Smartrise and ComfortAir have modernized two cars with Smartrise's C4 controller for the 17-story luxury resort.
Both men are nothing but complementary about each other's company. "Smartrise controllers are easy to install with upgrades and software navigation being done on site, user friendly, and Smartrise boards are universal for Cartop, COP, and Machine Room, which make them very easy to use." Crooks continued, "But what really set them apart is their tech support. It is simply phenomenal. The staff is always on point and is always there with us until the job is done. They are even willing to even fly to Jamaica to fix an issue when it is needed."
"Yeah, we usually get a few volunteers when that happens." Zogbi joked. "In all seriousness, it has been great working with ComfortAir for over a decade now. They have believed in us since the very beginning of Smartrise, and both of our companies have grown so much because of that trust."
How deep does the bond between these two companies go? Crooks said, "ComfortAir love the Smartrise controllers so much we branded all of our uniforms in the elevator department with the Smartrise logo."
In the end though, it all comes back to a company starting at the right time with the right people creating the right product. It all comes back to making that connection with ComfortAir. It all comes back to a bank in New Kingston, Jamaica, that still gets people where they need to go thirteen years later.