November 5, 2019
Posted by:

Bertin Mendoza

Category:

Company Updates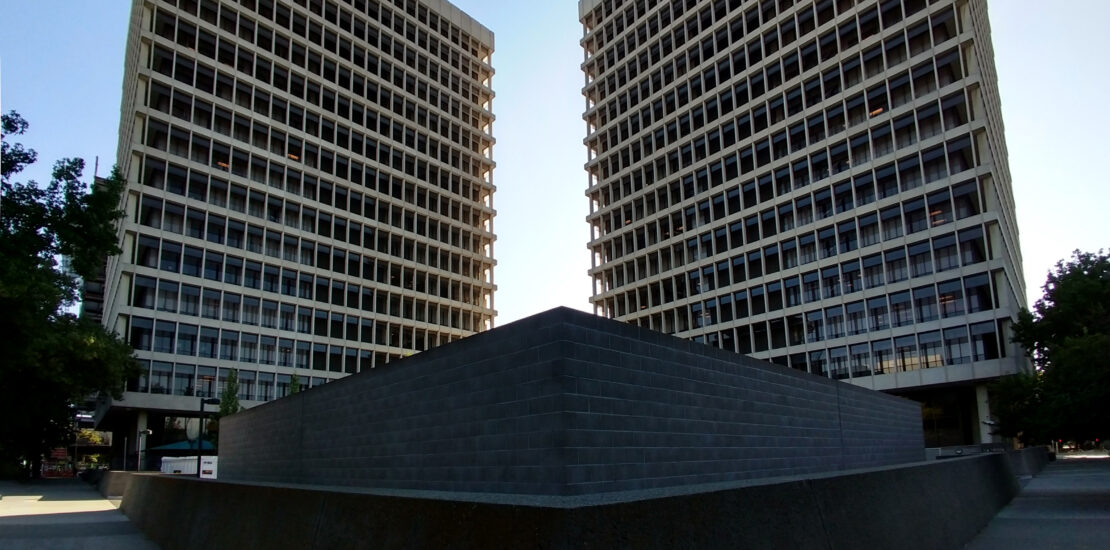 Some buildings define the skyline of a city. In New York City you have the Empire State Building, Chicago has the Willis Tower, Dallas has Reunion Tower, Seattle, the Space Needle. In Sacramento, for decades the most prominent buildings were simply known as OB8 and OB9 (Office Building 8 and Office Building 9). As the years passed and modern buildings with more striking features rose into the California air, OB 8 and OB9 almost stood as a time capsule of a previous version of the city. However, inside these buildings there have been numerous updates and improvements, with the most recent being the addition of Smartrise's C4 controllers in their elevators, making the lives a little bit easier for the most important parts of OB8 and OB9, the people inside the building working for the California Department of Social Services along with a childcare facility.
Both eighteen story towers are included in the modernization, with twelve passenger cars in the two buildings being installed with Smartrise's C4 controller. With Smartrise having roots in Sacramento, being able to improve a local landmark gave this project a special importance. "Working on a project only minutes away from our office is something that we take great pride in," said Smartrise's Robert Horton. "Smartrise got its start in Sacramento, so to help modernize two of our city's icons is something we wanted to be a part of."
Built in 1969, Office Buildings 8 and 9 were considered on the cutting edge of California architecture when they were completed. They were some of the first buildings in the state designed to be accessible for the disabled. Also, the Grand Valley Chapter of the American Institute of Architects gave the buildings their highest award, The Honor Award, based on the office's quality, efficiency, and design.
There have been multiple renovations since initial construction concluded, including merging the lobbies together to form one 7,800 square foot main entrance. Now the most recent improvements will bring a complete refresh to the elevators of both buildings. "These traction cars will be running at 1000 FPM and have regenerative kits, with Smartrise's C4 controller giving passengers smoother and quicker rides," said Smartrise Technician Ryne Stanford. "To put that in perspective, it will take around five seconds going from the bottom floor to the 18th."
The people occupying those elevators are the reason for all these improvements. The main tenant of the Office Buildings 8 and 9 is The California Department of Social Services, whose goals aim to, "serve, aid and protect needy and vulnerable children and adults in ways that strengthen and preserve families, encourage personal responsibility, and foster independence," according to its mission statement. This is done every day in these buildings with each and every floor working to improve the citizens of California's lives in different ways. One floor working on caring for the elderly and infirmed. Travel up a story and see the food and nutrition services, getting healthier food in the hands of people who would otherwise never have the opportunity. A few feet above that is adoption services, matching soon to be new parents with children who need homes.
As the number of floors grows so does the number of tasks being done for the people of California. Over 1,700 employees can fit in these two buildings, so the necessity for consistent fast-moving elevators is paramount. Thankfully they didn't have to look farther than their own city limits with Smartrise Engineering answering the call.
OB8 and OB9 will always be part of Sacramento. Their reign as the tallest buildings in town has long since passed, but the persistent improvement and changes are a microcosm of the growth that is happening in the surrounding state capitol. Both the city of Sacramento and Office Buildings 8 and 9 have been updated and refreshed, but the fundamental core and soul of both remain the people inside: Folks that are trying to help their neighbor and make their town and state just a little bit better than what it was the day before
Want to learn more about how you could install a Smartrise controller in your next office project? Contact our sales team at sales@smartrise.us today!
Follow the link to read about our High-Rise High Speed Projects: Read More