March 2, 2020
Posted by:

Bertin Mendoza

Category:

Uncategorized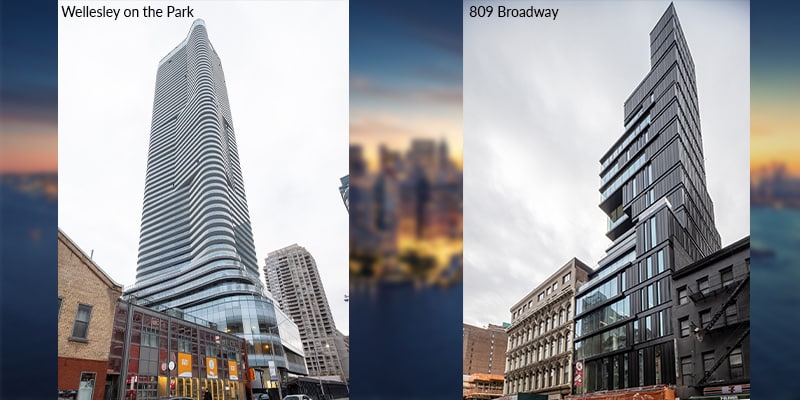 It's that time again to take a look around North America to see recent projects featuring Smartrise's C4 controller. More and more C4's are being shipped every day, so the next elevator you step in could be running on Smartrise's C4, just like these buildings.
Starting with a winter theme once again, we begin in downtown Toronto at Wellesley on the Park, which has nearly completed construction with C4 controllers in the elevators. This 60-story mixed-use complex is only a few blocks from Queen's Park and its design was inspired by Finnish modern architect Alvar Aalto. The first five floors hold retail stores, offices, and building amenities, while all floors above begin a luxury apartment complex with over 700 units available. Once again, the newest highlight of the Toronto skyline trusts Smartrise and C4 to be a part of the spectacular building.
Heading back to the states, the 809 Broadway building in the Greenwich Village neighborhood of New York City have been outfitted with Smartrise C4 controllers and Smart Dispatching System! Designed by NYC-based ODA with a stylish, stacked-box design that resembles futuristic shipping containers with iridescent windows, the 15-story, 41,000 sq. ft mixed-use building is adding retail, office and residential tenants. Greenwich Village is earning the nickname "Silicon Alley" in reference to the influx of newer tech companies.
Finally, we started in Toronto, and we end in Bermuda, where the newly christened Point House is being renovated and will be adding C4 controllers. This 80,000 sq. ft building will have retail and leisure units, as well as a great view of the Hamilton Harbour for the office space above. Construction on the renovation has recently begun and is expected to be completed in December of this year!
To learn more about Smartrise and the C4 controller, email our sales team at sales@smartrise.us today!