June 29, 2021
Posted by:

Bertin Mendoza

Category:

Uncategorized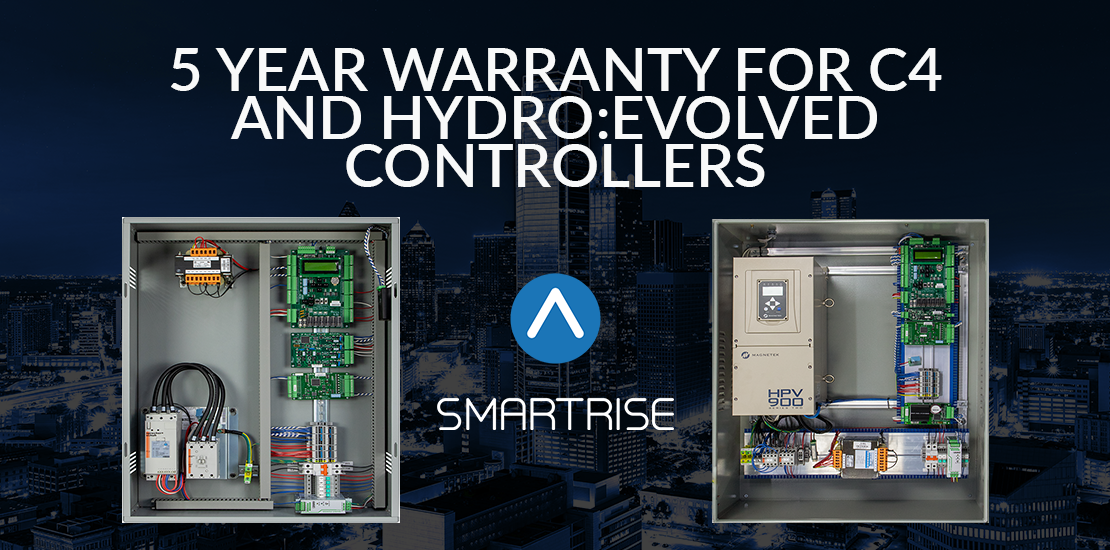 Smartrise Engineering is now including a 5-year warranty for every C4 and Hydro:Evolved controller sold, once again changing the way business is done in the elevator industry. If you previously purchased a C4 or Evolved controller, this also applies to you, as your warranty has been extended to 5 years as well. 
It is Smartrise's commitment to quality and our absolute faith in our controllers that allow us to offer such a long-term warranty. "Smartrise controllers are the most reliable in the industry and are built to last, so extending the warranties on C4 and Hydro:Evolved is an easy choice," said Smartrise CEO Gilbert Zogbi. "We hope that with this warranty building owners, contractors, and consultants that choose C4 and Hydro:Evolved controllers will have peace of mind knowing that Smartrise will have their back longer than anyone else in the field."  
This 5-year warranty is now added to the numerous benefits of choosing a Smartrise controller. C4 traction controllers make the ideal choice for any type of building, with speeds up to 2000 feet per minute and up to 128 openings. Hydro:Evolved brings Adaptive Slowdown to hydraulic controllers, reducing wear and tear on cars and increasing the overall lifetime of the elevator.
These next generation capabilities of C4 and Hydro:Evolved are in addition to the core tenants of all Smartrise controllers, including a simple, quick installation with fewer wires used compared to other controllers, being an open market product with a universal configuration and spare parts available via third party vendors, and our industry leading customer service and technical support team, which is available even during off hours.
To learn more about Smartrise and our controllers, email our sales team at sales@smartrise.us, call us at 469-678-8000, or head to our website, www.smartrise.us.