July 11, 2019
Posted by:

Bertin Mendoza

Category:

Company Updates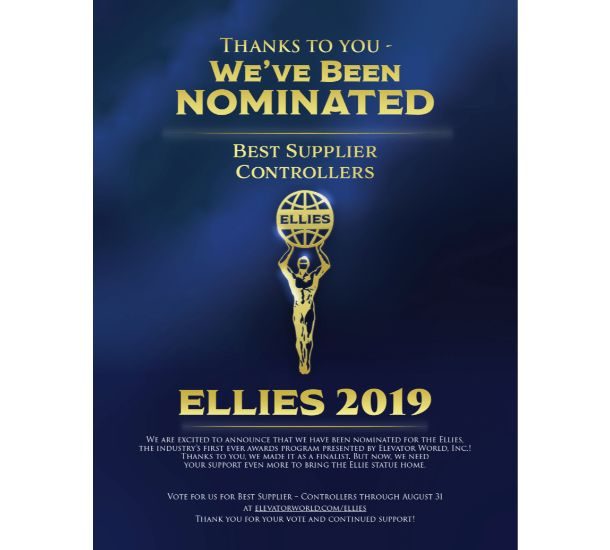 Smartrise Nominated for Best Supplier by Elevator World
Dallas, Texas – Smartrise Engineering is proud to announce that it has been nominated in the Best Supplier-Controllers category for the 2019 Ellies Awards, presented by Elevator World magazine. This is the first year that this category has been introduced, with voting starting on July 16 to determine the eventual winner.
Smartrise is especially honored by this nomination since the Ellies Awards celebrate companies that, "go above and beyond for their customers, employees, communities and the industry as a whole." Nominations for these prestigious awards are submitted by customers, employees or other industry professionals. "It is a real honor to be nominated for this award," said Smartrise Director Gilbert Zogbi. "It is to the credit of everyone working in our Dallas and Sacramento offices that we are able to deliver such a high-quality product to our customers from introduction to completion, no matter how large or small the job."
It's no surprise that Smartrise is nominated for this award considering Smartrise is consistently breaking new ground in the "open market" controller systems field, most recently with the implementation of the new C4 controller. This state-of-the-art, high-rise, high-speed controller has taken the elevator industry by storm with its automated acceptance testing, minimal floor-to-floor times, and maximum utility.
Smartrise is also frequently recognized for its industry leading customer service, including its no cost after hours technical support, and training options to keep mechanics up to date on the latest technology improvements.
Smartrise combines great products with great service to truly adapt to any situation that is sent its way. No matter the needs of the customer, Smartrise will find a solution.
Voting for the 2nd annual Ellies Awards goes through July 16th thru August 31st, with the winners announced in the December 2019 edition of Elevator World magazine. For more information about the Ellies visit www.elevatorworld.com/ellies. About Smartrise: Founded by industry veterans with extensive expertise, Smartrise is the largest independent elevator controller company in the industry. Its reliability is supported by an innovative and remarkably simple architecture, eliminating many potential issues. Its standardized design principles offer the industry's only true "open market" solution for virtually any new construction or retrofit. Smartrise's promise of quality is backed by a deep commitment to customer support with free 24/7 assistance. More at www.smartrise.us.
---
Legacy Machinery
Our elevator controllers are perfect for older building retrofit because they work with the existing platform. Learn More.