July 15, 2019
Posted by:

Randy Glover

Category:

Company Updates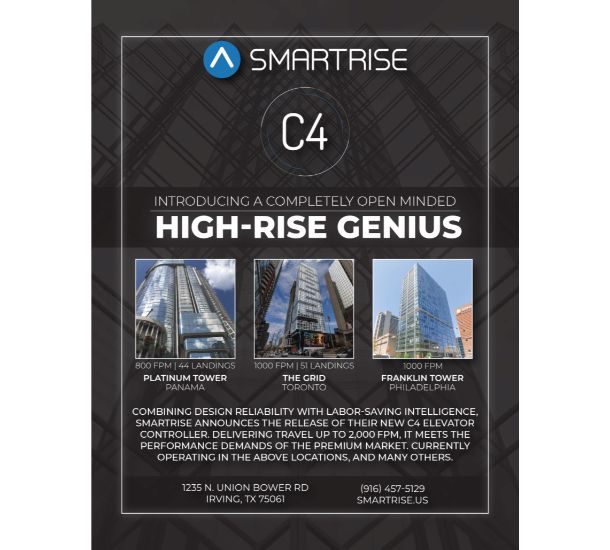 Dallas, Texas – Elevator firm Smartrise Engineering announced today the release of C4, introducing a high-speed high-rise traction controller that combines design reliability with labor-saving intelligence. Delivering travel up to 2,000 FPM , C4 easily meets the performance demands of the premium market. However, it is C4's speed of installation and service that makes it the best option for those whose value their time and reputation.
Beginning August 1, quotes for traction controllers will be issued using Smartrise's newest C4 technology. "We've always been firm believers in a model that combines advanced technology with architectural simplicity with non-proprietary service," says Smartrise Director Gilbert Zogbi. "That approach underscores our vision of delivering maximum utility and ease of support to the marketplace. That's something we feel high-rise owners, consultants and independent contractors can all get behind."
Every feature of C4 delivers benefits that repeatedly pay off in the field. At the heart of C4 is a sophisticated speed control generator that minimizes floor-to-floor times and adapts to traffic fluctuation. Slowdowns or minimum run distances to adjust will be a thing of the past. The system even calculates ETS and NTS automatically.
Those tasked with maintenance will appreciate not being required to use a tablet, smartphone, or PC. The interface enables one to share parameters within groups, streamline inspection testing, and grant easy access to construction mode—all without the need for additional tools.
For installers, C4 is introducing numerous time-saving benefits. Automated acceptance testing makes the process of turning an elevator over quick and easy. There is no need for a separate group enclosure: all the logic is on every board. The system effortlessly switches dispatching logic to any car connected to the group allowing for a truly redundant system. There's also no need to pull all security or lobby panel wires back to the machine room. With the universal I/O board, all connections can be made at the device with only four wires needing to come back to the machine room.
"Ultimately, this controller is a giant leap forward for Smartrise and we're excited to bring it to market," says Gilbert Zogbi. "It is pure control powerfully conveyed."
For professionals eager to find out how a simple design can make a more successful and satisfying installation, full product details are available at Smartrise C4 Controller.
Founded by industry veterans with extensive expertise, Smartrise is the largest independent elevator controller company in the market. Its reliability supports an innovative and remarkably simple architecture, eliminating many potential issues. Its standardized design principles offer the industry's only true "open market" solution for virtually any new construction or retrofit. Smartrise's promise of quality is backed by a deep commitment to customer support with free 24/7 assistance. Smartrise aims to continue introducing More at www.smartrise.us